PING
Glide 3.0 Eye2 Wedge w/ Nippon Z-Z115 Steel Shaft
Product Code:
2000000009239
Additional Information
PING Glide 3.0 Wedge w/ Nippon Z-Z115 Steel Shaft
With deep, sharp grooves for higher spin and a lighter overall system weight for improved feel and control, the tour-proven PING Glide 3.0 wedges deliver shot-saving performance across multiple loft and sole grind options. Made from soft, 431 stainless steel, the rounded head profile, tapered hosel and more offset provide a clean look at address and better ball capture. A higher MOI head adds accuracy and an elastomer insert delivers a softer impact experience. Four distinct grind options, including the classic PING Eye2 SW, are engineered to fit golfers of all abilities. HydroPearl Chrome 2.0 finish repels water and reduces friction through the turf.
Precision-Milled Grooves
Patented, wheel-cut grooves developed by PING's engineering and manufacturing teams enable grooves with a sharper edge radius, which increases interaction with the ball at impact, creating more friction for improved spin and trajectory control. The grooves in the lower-lofted wedges (46°, 50° & 52°) are milled with a 20° sidewall and a .005" edge radius for optimal full-shot performance. The higher-lofted versions (54°, 56°, 58° & 60°) feature an extra ½ groove at the bottom of the face for added spin and are milled to a .004" edge radius and a 28° sidewall to impart more spin, especially around the greens.
New Dylawedge Lite Grip
Five grams lighter than the original Dylawedge grip, the new version is softer and designed 3/4" longer than a standard grip with reduced taper to allow golfers to grip down for more versatility and trajectory control on finesse shots around the green.
New, lighter shaft
PING Z-Z115 shaft made by Nippon is lighter and has a lower balance point closer to the tip to help feel the head for more control and versatility.
Four Sole Grind Options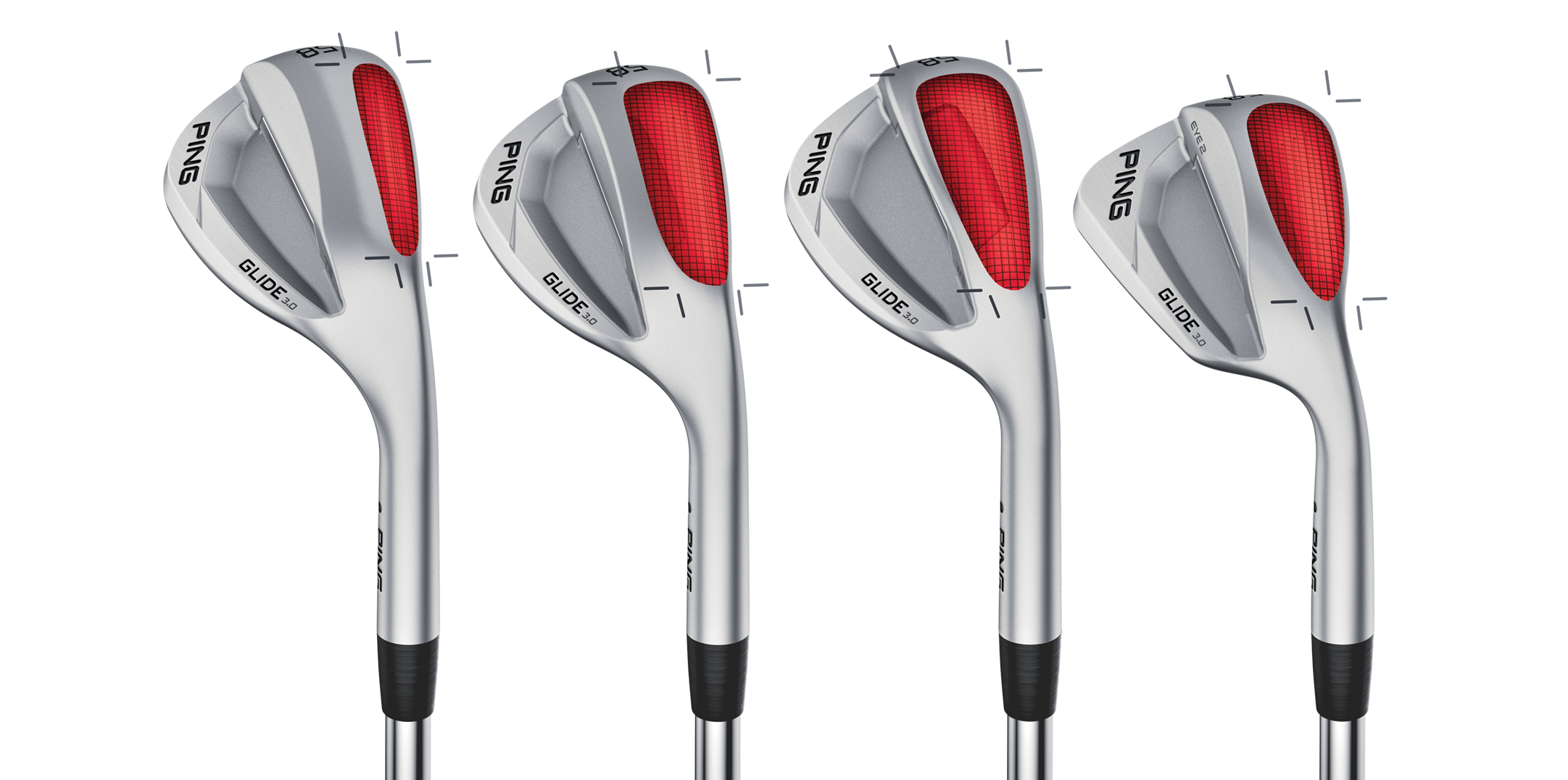 SS GRIND
Mid-bounce sole with heel relief. Engineered for golfers with a moderate angle of attack. Exceptional performance in a variety of turf and sand conditions. Fits most golfers.
WS GRIND
Most forgiving through the ground. Round and cambered sole with significant bounce. Recommended for golfers with a steep angle of attack who typically play in soft turf and sand conditions.
EYE2 GRIND
Matches original EYE2 SW sole profile, narrow hosel transition and high toe shape for the ultimate in bunker performance and touch shots around the green.
TS GRIND
Facilitates precise shot-making and versatility from tight lies. Extreme heel relief with 3˚ bounce grind. Ideal for firm conditions and a shallow angle of attack.