Cleveland
Launcher XL Lite Draw Driver
Product Code:
2000000022407
Additional Information
Cleveland Launcher XL Lite Draw Driver
Cleveland took their XL Head Design and combined it with their new Lite-Weight Design for a driver that helps moderate swing speed players amp up swing speeds and get maximum forgiveness.
LITE-WEIGHT DESIGN
A bonded hosel without the weight-adding adjustability sleeve, together with an ultra-lightweight shaft, makes this driver 12g lighter and 0.25" longer than the adjustable version, so it swings extra quick. That added speed means more distance off the tee.
XL HEAD DESIGN
This is huge: a bigger head means an MOI of 5,100 g-cm2–their most ever in a Cleveland Golf driver. Add that forgiveness to a high launch from low-and-deep weighting, and you'll enjoy maximum distance with maximum fun.
A bigger club head gave them more freedom to place discretionary mass as far from Launcher XL's center as possible. This matters because when you strike a golf ball on the toe or heel of the golf club, that golf club will start to rotate. And the degree to which your club's face opens or closes directly affects how offline your ball flies. Translation? Less rotation on off-center impacts equals straighter drives.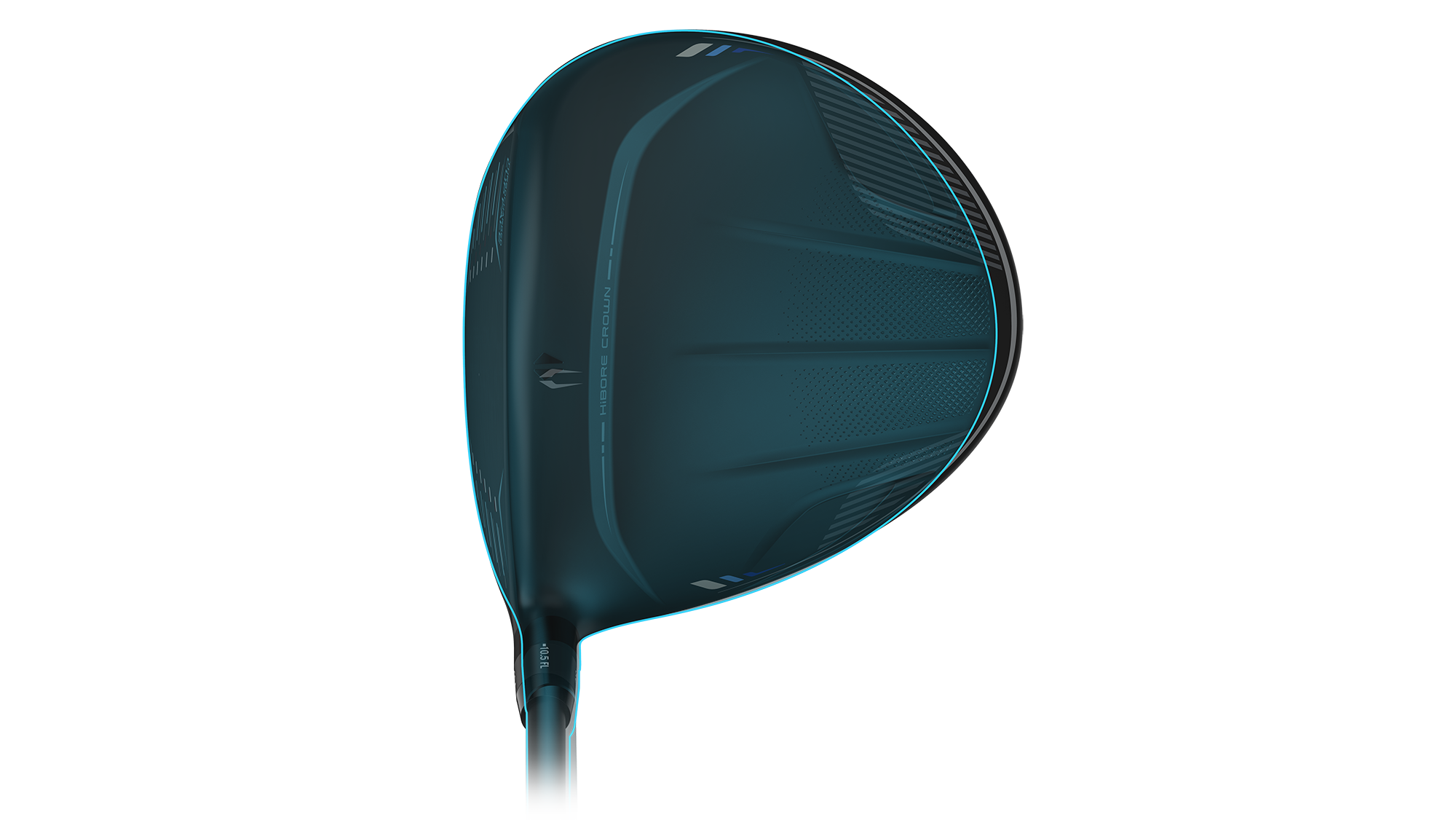 REBOUND FRAME
What's better than one flex zone? Two (duh). Alternating zones of flexibility and rigidity direct more energy into the golf ball for increased ball speed and distance on every shot.
Around the perimeter of Launcher XL's fast and flexible face, Cleveland thickened the titanium to create a rigid frame that supports the face. But, as you move farther back along the crown and sole of the driver, behind that rigid frame, they've thinned out the titanium wall as much as possible. This creates a ring of flexibility in the body of the driver, located behind the driver face. That ring is then supported by additional stiffness at the back of the driver.
When you strike the ball, both of these flexible zones are activated, increasing the amount of energy that subsequently propels the golf ball off the face of the driver. It's all a bit complicated, we know, but it's easy to think of it as a spring within a spring–a bounce within a bounce.

ACTION MASS CB
Lots of shafts claim to be "Counter Balanced." But a few extra sheets of graphite slapped onto one end of a golf shaft won't have much effect on something as dynamic as a golf swing.
In contrast, Action Mass CB is an 8g weight placed at the very top of the grip, right behind your hands as you hold the club–it ain't fairy dust. Think of it as the pommel of a sword: it helps your swing feel more controlled.
The benefits start in the backswing. As you bring the head of the golf club up from address, Action Mass CB's grip weight makes it feel lighter and more controlled. And that added control on the takeaway makes you more stable so that, by the time you reach the top of your swing, you're hitting the same position over and over. (Consistency. It's, like, a good thing.)
Once it's time to begin your downswing, Action Mass CB brings your hands straight down. This is great because that keeps your arms close to your body as you swing through the ball. Ultimately, it's a better swing plane that avoids the dreaded casting motion. And with a less 'over the top' swing, you'll have a squarer club face through impact, which means straighter shots with less slice.

ACCURACY BUILD
If precision is your top priority, this custom configuration is an inch shorter without counterbalancing for max control off the tee.
DRAW MODEL
A reworked chassis is purpose-built to fight the slice. It'll boost your confidence on every drive and keep those second shots out of the right-side trees.
| | | | | |
| --- | --- | --- | --- | --- |
| Loft | Lie | Head Size | Length | Swing Weight |
| 10.5° | 60° | 460cc | 46" | D1 |
Shaft
Project X Cypher 40

| | | | | |
| --- | --- | --- | --- | --- |
| Flex | Weight | Tip Size | Launch | Spin |
| A-Flex | 48g | .335 | High | High |
| Regular | 48g | .335 | High | High |
| Stiff | 50g | .335 | High | High |
Grip
Golf Pride Tour Velvet 360

| | |
| --- | --- |
| Core Size | Weight |
| 58 Round | 52g |