With Georgia on your mind, we want to help you prepare for the
Drive, Chip & Putt
each spring in Augusta, Georgia. Through a partnership with the PGA of America, United States Golf Association and the Masters Tournament, we're bringing a special experience to kids of all ages.
We've set up dedicated Drive, Chip & Putt simulators in three stores - Sugarloaf in Atlanta, Ga.; Delray Beach, Fla.; and Paramus, N.J. Practice driving and chipping in our simulators on the Masters Tournament driving range, then practice your putts on our indoor putting greens. After your session, you'll get the results of your practice session to help you compare your results to those of past competitions.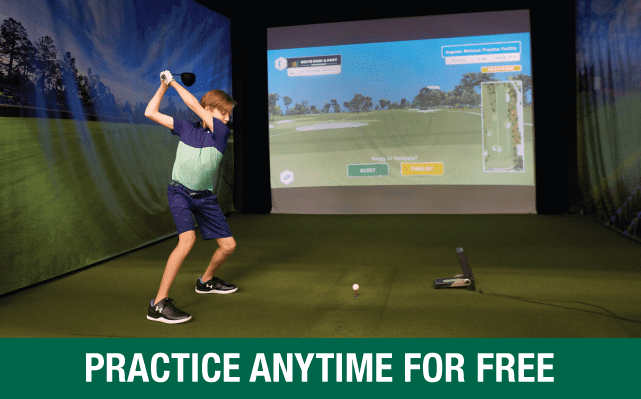 Designed to look and play like the practice areas for the Drive, Chip & Putt National Finals, the simulators in our stores give you the benefit of year-round practice, no matter what the conditions are like outside. Also, don't miss the opportunity to schedule a lesson with one of the PGA or LPGA professionals in our store to help you fine-tune your game en route to the National Finals.
When you're not driving and chipping, take advantage of our massive indoor putting greens to practice the preset distances of 6, 15 and 30 feet.
In addition to the daily practice, the first Saturday in June is Drive, Chip & Putt day in the three stores. Kids can register for one of the free clinics at 9:30 and 11 am, focused on improving their skills in the three disciplines. The first participants to register for a clinic receive a $60 goodie bag and are entered into an hourly drawing for a $25 gift card.
Open to girls and boys ages 7-15, Drive, Chip & Putt is a free, nationwide junior golf competition - aimed at growing the game by focusing on the three fundamental skills in golf: driving, chipping and putting. Each year, 80 finalists - narrowed down by local and regional qualifying - make their way to the Masters Tournament for the experience of a lifetime.