Golf Ball Fittings
Come in to any PGA TOUR Superstore nationwide and we will custom fit you to the perfect golf ball for your game by analyzing your launch data, observing your playing style, and asking about your preferences. Once fitted, you'll play better and have more fun on the golf course. The process is simple!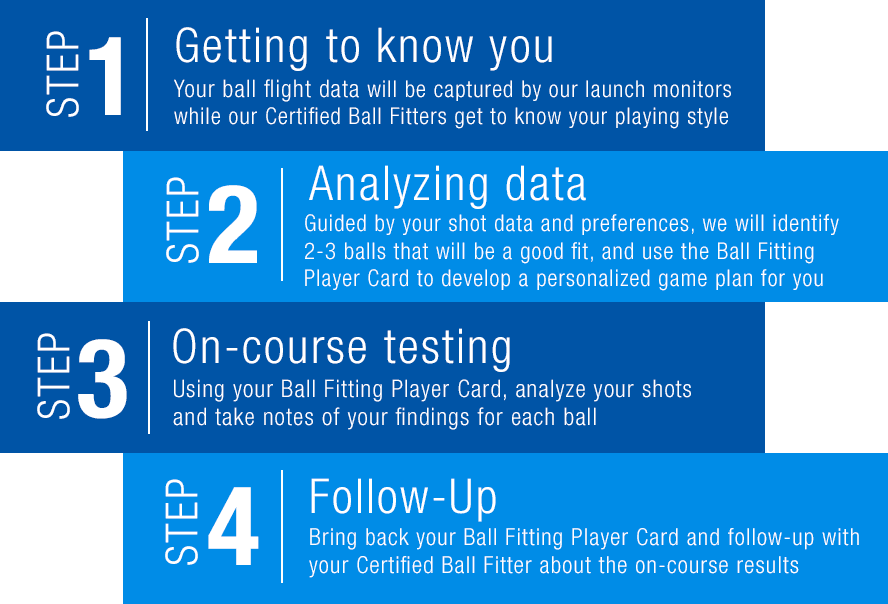 Personalized Experience
Our golf ball fitting experience at PGA TOUR Superstore is built around getting to know you and your game. We'll ask you to hit a few shots in our simulators and discuss your playing style and preferences. Our Certified Ball Fitters will give you recommendations on balls to try and will instruct you on the use of the Ball Fitting Player Card. This personalized card details the shots you should hit while doing the on-course testing, and provides space to record your observations. We encourage you to bring back your Ball Fitting Player Card and share the results of the on-course testing with the Certified Ball Fitter so any follow-up questions can be addressed!
To provide you with the most accurate and comprehensive information available, we use the FORESiGHT Sports GC2 ball flight launch monitor to collect 11 types of ball data from the shots you hit in-store. Your Certified Ball Fitter will then review the ball launch data with you and provide explanations for which golf balls will best fit your game.
Associate Expertise
Each PGA TOUR Superstore location has Certified Ball Fitters on staff, all with an understanding of how golf ball construction influences ball flight, and how changing from one golf ball to another can improve your score.

90-Day Guarantee
We want to do everything possible to help improve your golf game. If you purchase a dozen golf balls and are not satisfied with the performance, return half the box of unused sleeves for a full store credit.*
Valid on new, boxed golf balls only. Returns must be made within 90 days with a valid receipt. Product may only be returned up to two times in association with the original purchase, for the same type of product.
Find your Store