Leupold
Leupold GX-3i 3 Rangefinder
Images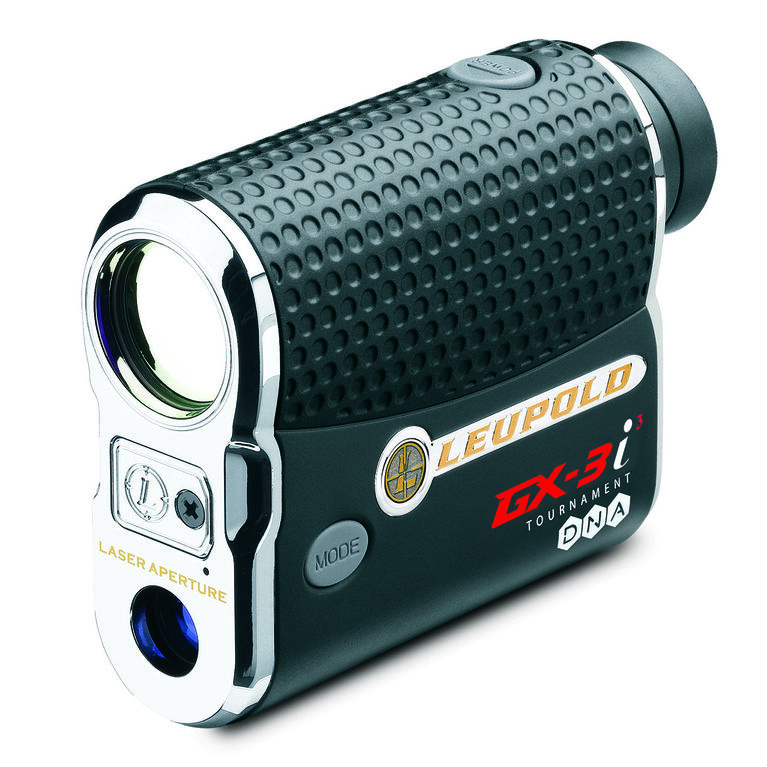 Additional Information
Leupold GX-3i 3 Rangefinder
Leupold's high performance DNA (Digitally eNhanced Accuracy) engine with advanced infrared laser technology provides faster measurements with increased accuracy. PinHunter 3 technology increases the pulse rate of the rangefinder which ignores user movement to identify the pin, while the audible Prism Lock lets you know you're locked on target.
Features
Magnification
Objective Aperture
Line-of-Sight Distance
Scan Mode
Yards/Meters
Prism Lock Technology
PinHunter 3 Laser Technology
Fog Mode
Quick Set Menu
Club Selector
USGA Legal (under section 14-3/0.5)
Leupold Limited 5-Year Electronics Warranty
---
THE TECHNOLOGY
DIGITALLY eNHANCED ACCURACY
Our revolutionary Digitally eNhanced Accuracy (DNA) Technology delivers the fastest, most accurate ranging in golf. Period. You get spot-on Line-of-Sight (LOS) or True Golf Range™ (TGR) accuracy within 1/10th of a yard in the blink of an eye.
PINHUNTER® 3 LASER TECHNOLOGY
Never second-guess a range again. Our intelligent Flag Lock Technology identifies the pin from the obstacles around it, like trees and bushes. Eliminate the guesswork with guaranteed accurate range to the pin the first time, every time.
| SPECIFICATIONS | GX-6c | GX-5i 3 | GX-3i 3 | GX-2i 3 | PinCaddie2 |
| --- | --- | --- | --- | --- | --- |
| Magnification | 6x | 6x | 6x | 6x | 6x |
| Objective Aperture | 22 mm | 22 mm | 22 mm | 23 mm | 20 mm |
| Line-of-Sight Distance | Y | Y | Y | Y | Y |
| Scan Mode | Y | Y | Y | Y | Y |
| Flag Lock Technology | Y | N | N | N | N |
| Image Stabilization | Y | N | N | N | N |
| Prism Lock Technology | Y | Y | Y | Y | N |
| PinHunter 3 Laser Technology | Y | Y | Y | Y | N |
| Fog Mode | Y | Y | Y | Y | N |
| Quick Set Menu | Y | Y | Y | Y | N |
| Yards/Meters | Y | Y | Y | Y | Y |
| Waterproof | Y | Y | Y | Y | Y |
| Inclinometer | Y | Y | N | Y | N |
| TGR (True Golf Range) | Y | Y | N | Y | N |
| Club Selector | Y | Y | N | Y | N |
| USGA Legal (under section 14-3/0.5) | Y | Y | Y | Y | Y |
| Weight | 8 oz | 7.8 oz | 7.8 oz | 6.8 oz | 6.3oz |
| Dimensions (Length x Height x Width) | 4"x3"x1.6" | 3.8"x3"x1.4" | 3.8"x3.0"x1.4" | 4"x2.5"x1.5" | 3.6"x2.9"x1.4" |
| Display | Red | Red | Red | Black | Black |
| Body Material | Aluminum | Aluminum | Aluminum | dv Polymer | Adv Polymer |
| Selectable Aiming Reticles | 3 | 3 | 3 | 7 | 1 |
| Maximum Range – Reflective Target/Prism | 770 y/ 640 m | 880 y / 731 m | 800 y / 731 m | 700 y / 640 m | 650 y /594 m |
| Maximum Range – Pin | 400 y / 365 m | 450 y / 411 m | 450 y / 411m | 400 y / 365 m | 300 y / 274 m |
| Battery Life (Battery Included) | > 4,000 Actuations | > 4,000 Actuations | > 4,000 Actuations | > 6000 Actuations | > 5000 Actuations |
| 2-Year Electronics Warranty | Y | Y | Y | Y | Y |
| Part Number | 178764 | 172441 | 174776 | 172461 | 120446 |