Bettinardi
Queen B 12 Putter
Product Code:
2000000018042
Images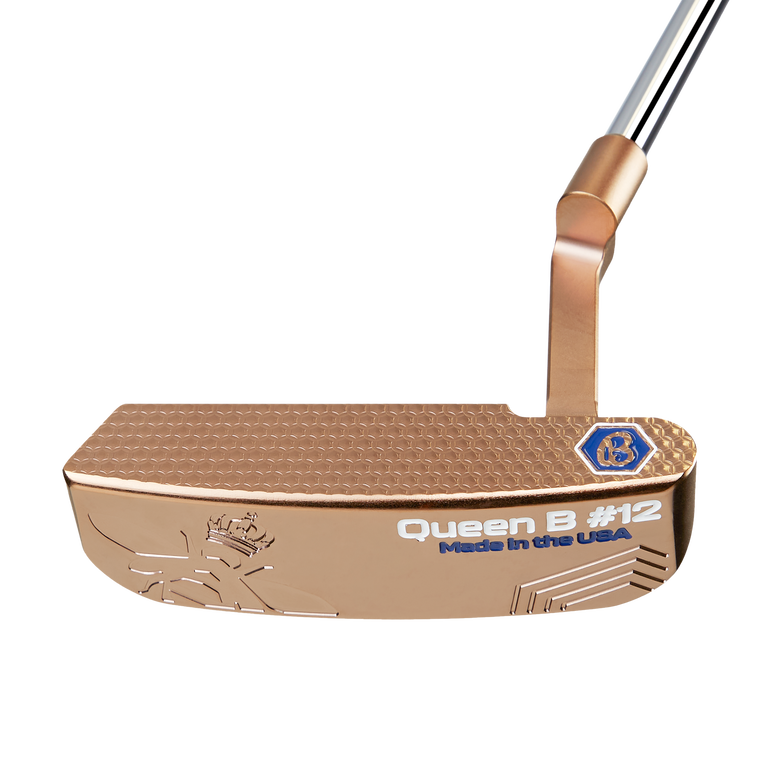 Additional Information
Queen B 12 Putter

The aesthetic charm of the Queen B series gives golfers the confidence-inspiring appearance that helps channel the Tour-winning heritage of this world-renowned lineup. Precision-milled from a single block of Soft Carbon Steel to 362 grams, each elegant Queen B model features RJB's esteemed Micro Honeycomb™ Face Milling, developed for players who are conscious of speed and prefer a firm and responsive feel at impact. This expertly-designed collection that is entirely milled in the USA is completed with our all-new, stunning and durable Rose Gold PVD finish, and complemented by a sapphire blue and white paint scheme. Each Queen B series putter is paired with a matching headcover, Tour-grade shaft, and a Lamkin SINK Fit sapphire blue grip in both standard and jumbo sizes, to combine professional components with a modern design.

Robert Bettinardi refines his traditional blade-style head shape with the all-new Queen B 12, expertly crafted for the 2021-22 Queen B Series. This newly-engineered model offers players a compact blade with a wider flange design and crowned topline, to give the putter a beautiful aesthetic, exclusive to Bettinardi Golf, for enhanced optics at address. The QB 12 features a one-piece milled plumbers neck, that is perfect for players looking for a moderate toe-hang blade. The gentle muscles, rounded bumpers, and soft lines of the all-new head shape unite Tour-inspired feedback into Robert Bettinardi's distinguished blade design.


NEW ROSE GOLD PVD FINISH
Bettinardi's all-new Rose Gold PVD brings aesthetic charm to complement the features of the Queen B line. This stunning finish not only enhances the timeless beauty of each model, but is extremely durable and glare-resistant, ultimately optimizing visual cues on the greens to give a confidence-inspiring appearance at every crucial putt.


303 STAINLESS STEELL
We've upgraded the entire Queen B Series material to a one-piece milled 303 Stainless Steel, which is the same blend of material preferred by all Bettinardi Tour staffers around the globe. This metal offers a more durable, responsive, and solid feeling putter for supreme performance.


Specifications:
Weight: 362 grams
Material: 303 Stainless Steel
Finish: Rose Gold PVD
Face Milling: Micro-honeycomb
Loft: 3°
Lie: 70°
Toe-Hang: 1/2