GOLFFOREVER
The GolfForever Training System
Article Number:
2000000032570
Additional Information
The GolfForever Training System
The GolfForever Training System combines a first-of-its-kind strength and mobility training tool with personalized workout and recovery plans in an intuitive app from world-class specialists that know golf.
THE MOST EFFECTIVE GOLF TRAINING TOOL EVER CREATED!
It doesn't matter if you're Scottie Scheffler – a daily GolfForever user on the PGA Tour – or the average weekend golfer; The GolfForever Training System improves your mobility and golf movement patterns like no other tool can. It's the safest, most direct route to gain fluidity and speed in your swing, increase your energy on the course, and play golf without limits.
The GolfForever Swing Trainer embodies three golf training tools in one; all powered by personalized workout and recovery programs in the 4.9 App Store-rated GolfForever app.
| | | |
| --- | --- | --- |
| Asymmetrical resistance band training bar for strength, speed and flexibility in your swing | Premium resistance bands with light and medium cords, and two soft rubber handles | Optimized heavy warm-up club that promotes thoracic mobility and pre-round muscle activation |
HOME OR GYM
Use the flexibility and strength fitness tool by attaching the resistance cord and door anchor anywhere in your house — and follow along with the GolfForever app's expertly-guided rotational power, speed and pre-round warmup drills.
COURSE
Use the optimized weighted warmup club without the resistance cord by attaching one of two included weighted balls — one with a D3 Swing Weight that mimics the dynamic feel of your driver but 2.5x heavier, and an overloaded one to feel more head weight.
Included Features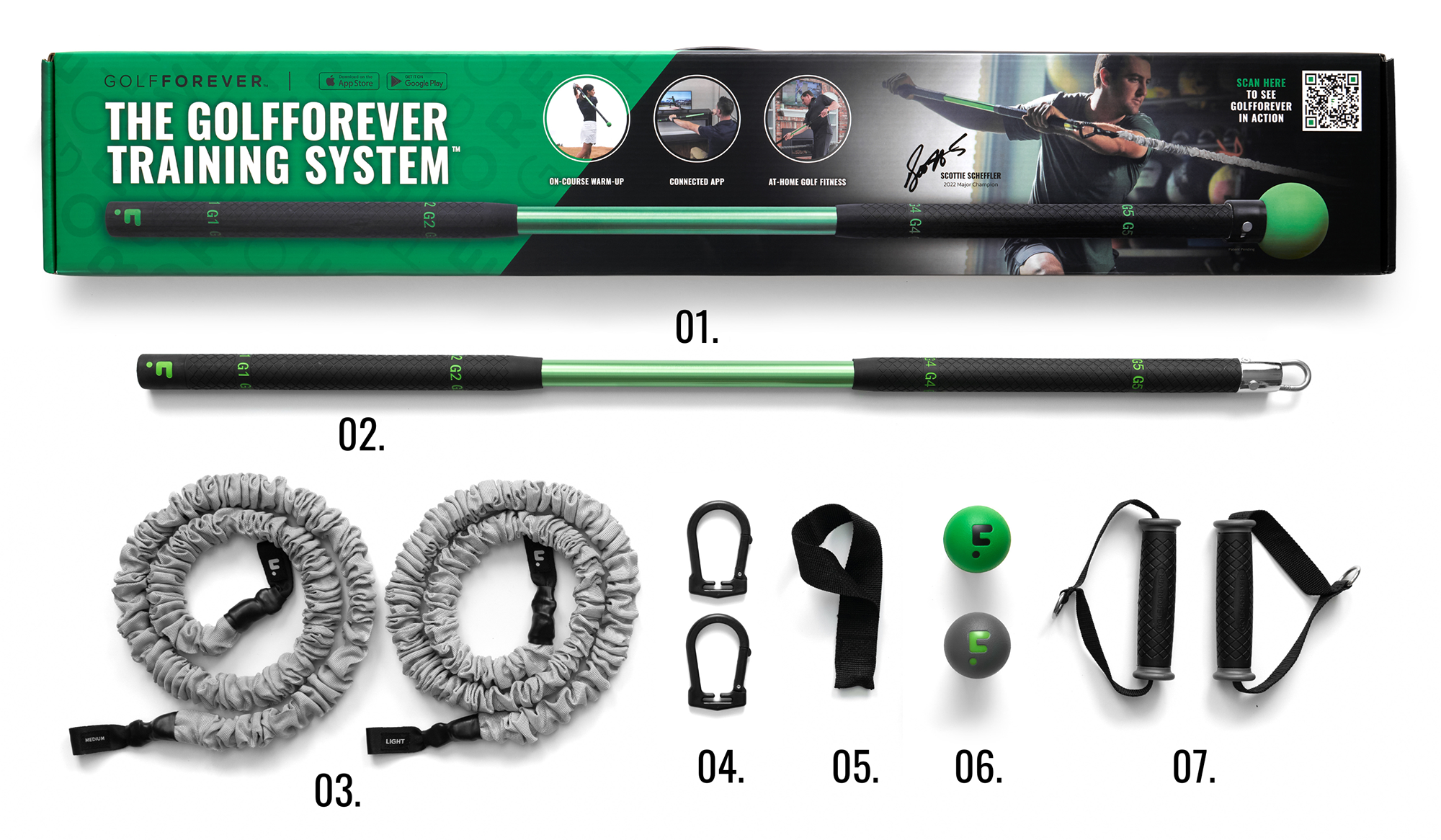 Multi-use 44.5-inch training bar
Two power grade soft, sweat-resistant 15-inch rubber grips with five specialized training zone demarcations
Light and medium latex training cord w/ nylon safety sleeve
Two easy-to-attach polymer carabiners
Universal nylon door anchor
Two quick-interchangeable weighted balls for overloaded training and warming up
Interchangeable hand grips